---
Organizations share information. The Microsoft Rights Management services (RMS) offering helps organizations keep their critical information secure, both inside and outside of the organization, by protecting documents both at rest and in motion.
Microsoft RMS enables the flow of protected data on all important devices, of all important file types, and lets these files be used by all important people in a user's collaboration circle. Yes, RMS will now protect any file type (not just Microsoft Office documents), let you access them on many devices (not just Windows PCs), and enable sharing with other organizations (not just within your organization). Furthermore IT Pros can perform simple, planned deployments of RMS or, if not deployed by the IT Professionals, Information workers (IWs) can adopt RMS on their own.
The Microsoft Rights Management suite is implemented as an Azure service. It comprises a set of RMS applications that work on all your common devices, a set of software development kits, and related tooling. By leveraging Windows Azure Active Directory, the Azure RMS service acts as a trusted hub for secure collaboration where one organization can easily share information securely with other organizations without additional setup or configuration. The other organization(s) may be existing Azure RMS customers but if not, they can use the Azure 'RMS for Individuals' capability.
Let us begin with a few very facts about Microsoft's Azure-hosted Rights Management service:
Azure RMS is at the core of the Rights Management suite and relies on Windows Azure services.
A document is protected by RMS without the document being sent to the Azure service.
Viewing or sharing protected documents is enabled without the documents themselves being sent to the Azure service.
Sharing a file occurs without the document being relayed via the Azure RMS service.
The Azure RMS service never sees your data.  Actual customer content is never accessible to RMS data protection services, nor to anyone compelling the service to do something on their behalf.
How RMS Works:
The document is kept on premise. A presumption here is that the company has full control over its security perimeter, something that may not always be true. This caveat aside, the document is generally considered as being most private.
The document is shared with a second party. The document is shared, in private, via what both parties deem to be a secure means (e.g.email, USB storage).
 The document resides in any cloud provider's SaaS application. From there, it is shared with others.
 The document resides in any cloud provider's storage. From there, it is shared with others.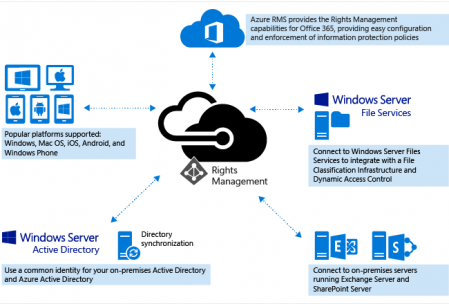 Benefits of using RMS:
Information workers– Send or share confidential information ensuring it is not accidentally shared on the internet.
Business decision makers– safeguard data, comply with regulatory requirements and enable secure collaboration with partners: on premises, in the cloud and on mobile devices.
IT Professional– Closely manage the systems that protect data, provide compliance reports, teach users how to securely share information and keep everything always up and running. Trouble free solution that works.
Developers– add data protection to applications as customers demand better security. Get straight forward libraries for encryption and security on all platforms- Windows computers, Windows tablets, Windows phones, Macintosh, iOs, Android and Web.