---
Evault Backup Services for Microsoft Azure works with your Microsoft Azure business infrastructure, simplifying cross-platform and multi-hypervisor backup and recovery. And with EVault Backup Services for Microsoft Azure you can consolidate all your cloud licenses under one enterprise agreement, significantly reducing your contract issues and costs.
Secure, Reliable Data protection service
• Ongoing backup verifications and audits – your data is protected from post backup data corruption and less
• "Light always on" managing petabytes of data
• 24/7 operations backing up mission critical applications while they are online.
Consolidation of Applications and Business Data Across Complex Environments
• Supports operating systems like Windows, Linux, Unix.
• Supports hypervisors like VMware ESXi and windows Hyper-V.
• Cloud, on premise and cloud connected data consolidated into a single backup.
Easy Deployment and Management
• Real time collaboration with colleagues or Evault Customer Service Team via a social platform portal
• Backup environment health management and monitoring
• Fast troubleshooting of failed backups
Ensured compliance with data protection policies and regulations
• Best practice retentions (30 daily backups and 11 monthly backups)
• Instant and centralized information of the entire backup and recovery process captured by Evault reports
Optimized performance with advanced compression and Data Deduplication
• Front end data deduplication uses Evault delta block level processing technology- only new and changed data blocks within files are sent to storage, decreasing backup times and storage footprint.
• Compression technology and bandwidth throttling- maximizes backup transfer speed and minimizes network impact.
World Class Customer Support
• Data protection experts available 24/7/365 at no additional costs
• Evault professional services teams can help design, test and execute data protection strategy
Extensible Subscription services to meet your recovery time objectives
Single pass system and data recovery using bare metal capabilities.
Guaranteed recovery time options in case of disaster.
How it works:
EVault Backup Services for Microsoft Azure centralizes the backup and recovery data of all computers distributed throughout your organization—headquarters as well as remote or branch office (ROBO) locations. Agents automatically back up your data over the Internet to a highly secure Microsoft Azure data center. You monitor and manage everything within a web browser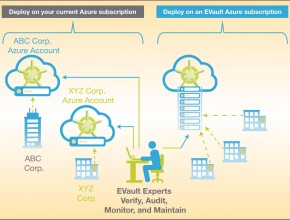 Recovery is just as easy: when you need to restore data, simply navigate to the recovery point via an intuitive interface, then click. Onsite recovery is greatly accelerated using onsite virtualor physical appliances. EVault Reports provide details on the status of your backups.