---
When Dynamics 365 was announced last year, Takeshi Numoto, Corporate Vice President, Microsoft Cloud + Enterprise, described a better world for businesses everywhere. "One where you can track leads, automate field service, drive sales and improve operations using modern, mobile, enterprise-ready intelligent business apps from the cloud that are as easy to use as the consumer apps that help us all get rides, book rooms, listen to music and take actions to improve our health."
In just a few weeks after the launch, Microsoft Dynamics 365 took the center stage and showcased the unification of the Dynamics CRM and ERP Cloud solutions into one cloud service with new purpose-built applications and built-in insights and intelligence. With core business apps (focusing on Sales, Field Service, Customer Service, Project Service Automation, Marketing, and Operations), analytics from Cortana Intelligence and Power BI, and the productivity power of Office 365, this new approach is more than a game changer. It will be the framework that will help grow your business in FY18 and beyond.
While there are many different kinds of CRM tools available from different vendors, only Microsoft Dynamics 365 focuses on small and medium organizations as well as multinational corporations. Dynamics 365 for Business Edition can either be bought as an individual app or as a part of Dynamics 365 Business Edition, which comprises SMB focused sales, service, and marketing applications. It also comes at a lower cost and targets companies that have between 10 to 250 employees. Whereas Dynamics 365 Enterprise Edition is cloud solution designed for large businesses with more than 250 employees.
Microsoft Dynamics 365 offers deep integration to Office 365 to seamlessly connect your data and processes with collaboration and productivity, tools like SharePoint, Office, and Skype for Business can also be integrated. And with embedded intelligence tools including Power BI, Cortana Intelligence Suite, and Azure IoT, Dynamics 365 will help your organization disrupt the competition and increase the speed and efficiency of doing business.
Above all, Microsoft Dynamics 365 for Sales + LinkedIn Sales Navigator represents a major development for the sales process will make your more effective and allow you to save valuable time in order to tune up the sales pipeline:
With D365 and LinkedIn Sales Navigator Integration, you get:
With so many options out there, selecting the right customer relationship management (CRM) solution can seem like an uphill battle. Here is a list of CRM leaders: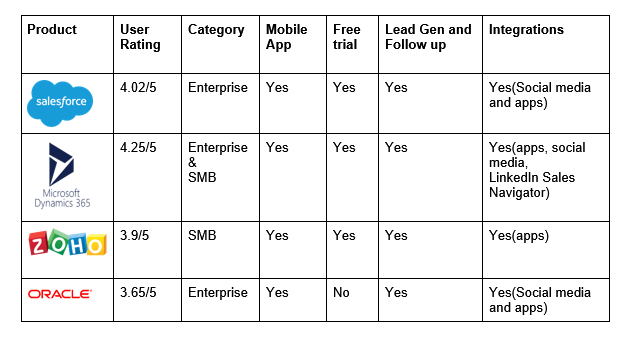 What makes D365 different?
Improved operational efficiency
Its flexible workflow engine enables organizations to automate operations and processes in ways that people can use each day. Microsoft Dynamics 365 can relieve your employees of ordinary but vital work.
Enhanced customization
It can be tailored to function the way your company already works or wants to work
Targeted marketing campaigns
Microsoft Dynamics 365 delivers a marketing automation tool that simplifies processes like building lead and client lists, creating campaigns targeted at specific prospects, measuring results and executing follow-ups.
Simplified service scheduling
Microsoft Dynamics 365 delivers a centralized, all-in-one view of all client service requests and calendars.
D365 & O365
Dynamics 365 CRM enhances the reach of Microsoft Office Outlook by converting it into a tool to manage client information.
Seamless application and data source integration
D365 connects easily with the 3rd party application to help break down information
Scalable database architecture
Dynamics 365 offers you superior performance and flexibility with advanced features, state-of-the-art technology, and a robust architecture built to stand the test of time.
Now that you've had a quick glimpse into what makes Dynamics 365 different and efficient, are you ready to implement D365 for your business?
Contact one of our experts today and to learn how you can implement Dynamics 365 in your organization and find the perfect solution for your business. Write to us at info@sysfore.com or give us a call at +91 (80) 4110 5555